January - February 2013
A thrill to have led and inspired the entire student body at Mill Valley Middle School in Swing Dance.
1,000 students per week for five weeks, culminating in a Valentine's lunch-hour dance.
Thanks to Kiddo! for this fab opportunity. Students smiled, mostly. Grateful for legs of steel.
In the news
Mill Valley Herald February 20, 2013
Mill Valley Patch February 22, 2013
"All I can say is WOW! Today was absolutely incredible! The performance went off without a hitch and the Gym dance was also fabulous. I am in awe of not only your dancing skills, but your teaching skills as well. To have classroom control and the attention of 700 students was amazing. Today was truly inspirational and put a smile on everyone's faces all day long. Thank you again for sharing your incredible talent with the children in Mill Valley Schools."
Trisha Garlock, Executive Director, Kiddo!
"You are amazing!!! Thank you for sharing your special gifts of positive energy and enthusiasm at the Back to School events with our school district administrators. The 2010-2011 school year is off to a great start thanks to you! Again, many thanks for all you do!"
Mary Jane Burke, Marin County Superintendent of Schools, August 2010
Del Mar Middle School in Tiburon was Cynthia's first social dance P.E. pilot program in 2004. An encore program occurred in 2008, teaching an entire student body of 6th, 7th, and 8th graders in conjunction with their Physical Education Department.
Thanks to Norleen Jones, Physical Education Department Head, for paving the way from the basketball court to the ballroom.
Contact Cynthia for opportunities to introduce social dance to your school.
Creative ideas on funding available.
Dance and Social Skills are a must for middle schoolers. Beats square dancing!
It's time to call Cynthia!
415-485-5500
This email address is being protected from spambots. You need JavaScript enabled to view it.
Pop, Shake, and Shout 'Mob Dance' at Mill Valley Middle School, 2010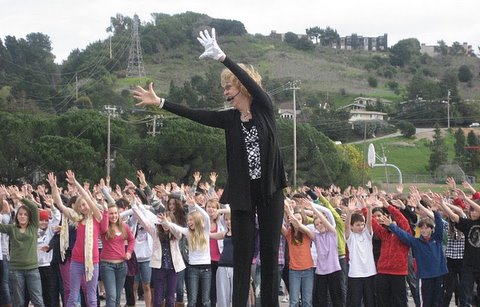 Sponsored by Kiddo!
Mill Valley Schools Community Foundation
More than 700 students, teachers, and administrators participated in a spirited dance tribute to Michael Jackson. The mass performance took place outside, on the blacktop at Mill Valley Middle School. Led by choreographer Cynthia Glinka of Larkspur, the kids showcased the dance moves they learned in just 4 one-hour sessions under Glinka's expert tutelage.

Glinka was invited back to work with the students after the success of the June 2009 Dance Fever mob dance. Along the way they learned how to interact and cooperate within a large group to make a successful and spirited display. In addition to the dance routine on the outdoor court, the students spun, stepped, and whirled in a lunch-hour dance in the gym, exhibiting partner dances which the students learned from Glinka.
Live music was provided by the Mill Valley Middle School Jazz Band.


Front page - Marin Independent Journal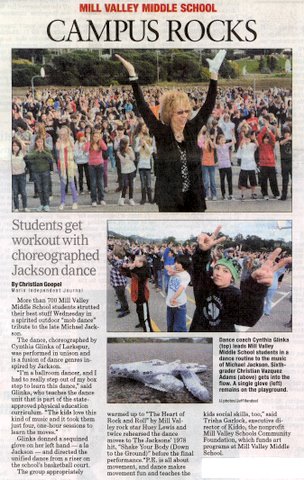 Dance fever swept Mill Valley Middle School as 6th, 7th, and 8th graders completed a unique five-week dance course taught by celebrated dance coach and choreographer Cynthia Glinka of Larkspur. Glinka taught nearly 700 students the Swing, Fox Trot and Rumba. The program culminated with the entire school performing a disco line dance on the outdoor court, followed by a lunch-hour dance in the gym with music provided by the Mill Valley Middle School Jazz Band. We're so proud of all the students, as we were all in-step, disco-style. Thanks to the State Arts Fund and coordination by Kiddo! Special shout out to Physical Education teachers Andre Salinas, Sarah Petrini, Melissa Palmer, Principal Matt Huxley, the Mill Valley District Office staff, and Trisha Garlock at Kiddo!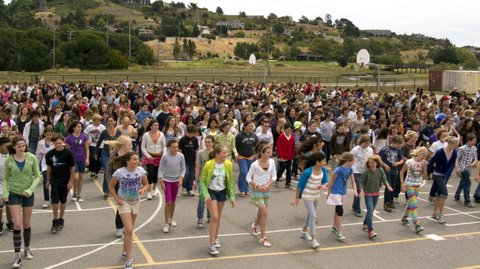 Principal Matt Huxley
and Kiddo's Executive Director Trisha Garlock