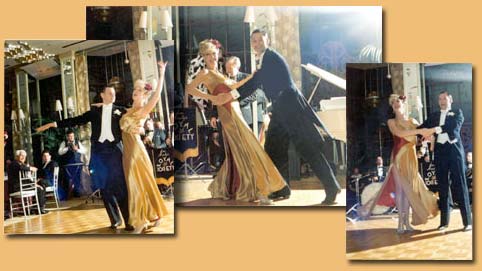 No matter what your dance objectives, Cynthia Glinka can help you accomplish them!
Let us help you fill your dance card. Are you a beginner and want to hold your own when you 'need' to dance? Are you a future bride or groom and want to have a fantastic first dance? Would you like to fast-track your learning of the social dances? Swing? Ballroom? Latin? Are you an event planner who would like to incorporate dance lessons or dance entertainment into your program? Are you a performer who would like to add polish and presence to your act? Do you need choreography for yourself or your team? Give Cynthia a call!
Cynthia Glinka offers instruction in dances that include:
The Glinka Glide
A dance created by Glinka that takes you from walking to dancing. This is great for beginner dancers who want fast results!
"If you can walk, you can dance"
Your First Dance
"A honeymoon, not a nightmare." Have a picture-perfect wedding with a first dance that is a crowd-pleaser.
Guaranteed - in just ONE SESSION!

Visit Weddings for more information
Popular Dance Styles
Continue across the dance floor learning these popular dances
Swing
Waltz
Fox Trot
Jitterbug
Rumba
Viennese Waltz
Line Dances

Salsa
Polka
Tango
Balboa
One-Step
Charleston
Merengue

Disco
Country
Rock 'n' Roll
Lindy Hop
Shim Sham
Tap Dance
Cha Cha Cha
Cynthia is available for private sessions, group lessons, or entertaining guidance at parties and special events.
Cynthia Glinka's instruction in couples' dancing does not discriminate between who leads and who follows, based on gender.
Coaching and Instruction options also include
Film, Television, and Commercial Choreography

Musical Theater

Cabaret and Jazz Staging

Choral and Vocal Group Staging

Solo Performance Styling and Staging
It's time to call Cynthia!
415-485-5500
This email address is being protected from spambots. You need JavaScript enabled to view it.