A Bouquet of Thank Yous from Couples on the Dance Floor
Congratulations to the lovely couples and families I've had the pleasure of guiding to the dance floor.
Read our five-star reviews on

YELP and GOOGLE
Client's comments say it best.
Bride Mellie D. was so thoughtful in her Yelp review about my services.
She captured the ONE session experience better than anyone.
Alice's Yelp review - it says it all!
Thanks Alice!
"She really can teach you to dance in 1 session! Our wedding coordinator recommended Cynthia to give my now-husband and I a quick dance lesson for our first dance. My husband is not a born dancer by the way and our wedding was literally 3 weeks away. We were curious how she'd be able to teach us a dance routine in 1 session. Well, she did!! Her motto is "If you can walk, you can dance." So true. We told her what song we wanted to use, met up on a Sunday at her studio, and she taught us a routine in 2 hours. We had to practice but all the basic elements were there.
The session was also really fun and Cynthia is a riot. She's energetic, humorous, encouraging, and a great teacher. She provides follow-up notes and pictures to help refresh your memory when you're practicing. We got so much praise after we did our first dance and our friends/family were amazed that it only took 1 session. The biggest compliment was when my friend who was also getting married said that she and her fiancee had already taken 3 lessons (from another instructor) and were no where close to doing what we did. Naturally, after 1 session my husband and I won't be at the level of Dancing with the Stars. But if you just want to learn a quick, impressive dance for your father/daughter dance or first dance, I highly recommend Cynthia. You get results. She was pricier than what I expected for a dance session, but she was worth every penny."
Shaun's Yelp review.
Thanks Shaun!

"Cynthia was recommended to us by friends who had used her to prepare for their wedding 'first dance'. We were told she could help us prepare adequately in just a single lesson and she did just that, even though neither of us have taken any kind of dance lessons before. She is bubbly, patient, easy to work with and we both enjoyed the lesson. She even helped us pick the song. At the end at the end of the lesson, we had the routine down and were both looking forward to the big day even more.

Like most soon to be married couples, we were really busy, and this lesson helped us quickly knock one more thing of our list. Thanks Cynthia..."
---
---
Cindy and Chris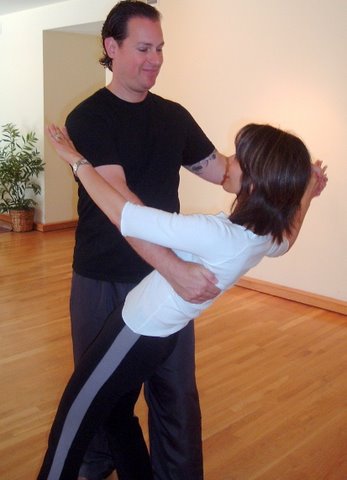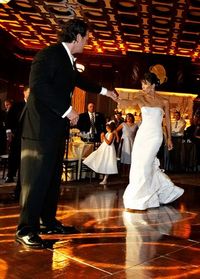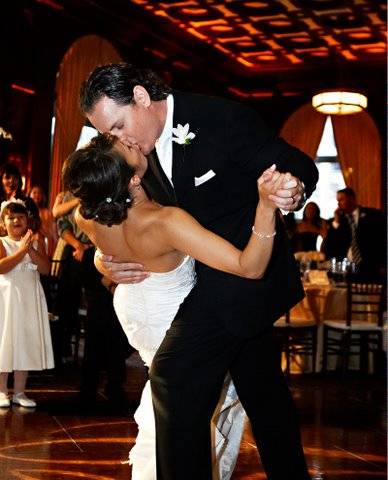 "I know when we left your studio, you made a believer out of Chris. However, the true test was the day of our wedding. Needless to say, our dance was a hit. Your suggestion of entering the Julia Morgan Ballroom and leading into our first dance was pure genius! The crowd was energized and our song worked out perfectly.
As you suggested, we told our photographer that we will dip in the beginning and kiss at the end and they were there to capture the moment. Thank you so much for your skill and talent. If you have other non-believers out there, tell them about us. You gave us the basics and we were able to entertain and "wow" our guests.
Thank you for making our wedding memorable and fun!"
---
Erin and Nick
"I am pleased to report back to you that your students were exceptional dancers at the wedding!
It was such a wonderful moment as everyone watched them dance. Thank you for all that you do!
Nick looked like he had been dancing for years."
---
Jubilee Lau
"You are amazing! All my clients love you, and so do I. You make dancing seem effortless and they feel so much more confident on the wedding day which makes for great photos, video, and audiences! THANK YOU!"
Jubilee Lau, Certified Wedding Consultant
---
Lily and Andy (Candice's parents)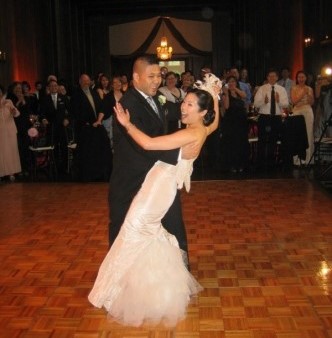 Photos courtesy of Todd Rafalovich
Pictured are Candice and Adrian
"You were fantastic! Andy and I really enjoyed your company and dance instruction. We had such a great time, and I am so proud of Andy for doing so well. Now it is time for us to dance (practice) so we can shine on the wedding day. Thank you for the recap of instructions. I will also let Adrian's parents know how wonderful you are and advise them to take lessons with you. I would like for all of us to look good on Candice's wedding day and surprise everyone with our foot work!"
---
Angela and Jon
"Thank you so much for the dance lesson you gave Jon and me, and also the group lesson with our wedding party. It was honestly the best thing we did for our wedding reception! My dad was so appreciative, he said it was the first time in his entire life that he actually felt like he could dance. It was truly a wonderful evening, thanks to the energetic instruction you gave us. It's a gift that keeps giving! We're finding all kinds of places to dance around the world!"
---
Josephine
"Thank you so much for the fun photos and the incredibly thorough cheat sheet that will come in very handy. I came home gleaming and so excited and immediately wanted to practice in our tiny one bedroom apartment. For the first time in my life I am excited to dance and to show all those doubters that I "got it"... Thank you, yes, it is a true gift! Thank you, thank you, thank you."
---
Holly
"We want to thank you for a wonderful dance lesson. We feel more ready for our "first dance" in the public eye and are confident, that no matter what, we'll look good trying. What I appreciated most is your enthusiasm for the art of dance and your quick and easy dance tips. It certainly surpassed all of the other lessons we've had. Thanks again Cynthia, it was a wonderful experience on many levels."
---
Dr. Augustas S.
"Your style is very genuine, approachable - certainly explains why the famous and the not-so seek your counsel on this kind of thing."

---
Biz
"Ron and I had an absolute blast at our lesson and thoroughly enjoyed you and your teaching style. Ron is looking forward to practicing and the actual dance on the Big Day! And we even practiced (albeit briefly) the cuddle snap maneuver this morning before heading off to work. It was truly a pleasure and we thank you for all your suggestions and positive energy and expertise."
---
Dorothy
"Thanks so much. We had a great time last Sunday. Dave and I even practiced a bit last night on the BART platform--of all places. What better way to pass the time while waiting for a train."
---
Dr. Simon and Jin
"Your lesson to us was fantastic and your lesson to the group was exactly what the wedding needed. It couldn't have worked out more perfectly. Thanks again for everything, our wedding would not have been the same without you."
---
Bill and Edna
I had the honor of guiding and assisting Bill (88) and Edna (90) for their first dance. After being confined to a wheel chair for five years, Edna dreamed of dancing again. After falling in love with Bill, Glinka's student, Edna, vowed to dance again. For three months they worked with Cynthia and a physical therapist to prepare Edna for her long awaited dance. The couple danced at their wedding reception with Cynthia in the wings.
The three-month preparation for this special moment was captured on film by Gatlin Photography.
---
Lindsey and Will
Looking forward to the captured moments from their wedding day
---
Lynda
"I wanted to drop you a line to let you know how wonderful Lauren and Brandon's first dance was. It was so beautiful, and yes I cried in pleasure. So many people commented about how impressed they were with how Brandon presented her. Not only did we have a fun evening together learning to dance, and the wedding dancing was beautiful, Lauren and Brandon had fun dancing on their Honeymoon and will remember your instruction forever."
---
John and Irina
"It was a wonderful experience and we're so grateful to you for your support, enthusiasm, and world class teaching. Thank you for making this happen for us. It was wonderful and we are very appreciative."
---
Call to schedule your private session.
You'll be dancing out the door – guaranteed!
It's time to call Cynthia!
415-485-5500
This email address is being protected from spambots. You need JavaScript enabled to view it.
Christine & Peter accomplished their goal in just ONE session
Photo courtesy of The New York Times Weddings