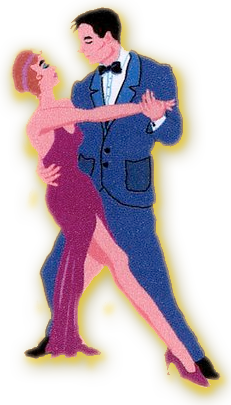 Larkspur-based dance instructor Cynthia Glinka agrees that dancing, with its fast paced rhythms, offers one of the best workouts you can get. "It's the cardio," she says.
"This is the only sport where two people can hold each other in an intimate embrace and exercise at the same time - with their clothes on," she says with a laugh.
Marin Independent Journal
Frequently Asked Questions about dance sessions:
Do I have time?
ONE Session – I guarantee you'll be dancing. With my easy-to-learn tips and tricks and common sense approach, the bear hug hold will remain a memory from high school.
Can I afford this?
Yes! You can afford to have an enjoyable and relaxing time on the dance floor. It's an investment that will bring you a lifetime of enjoyment.
Why is it important to learn to dance?
You will become aware of opportunities to dance to the music as you journey through life when you take advantage of my simple road map. Muscle memory will allow you to easily recall the variations we explore, as well as those that you create on-the-spot. You'll be amazed how your perception of music changes. Instead of sitting and listening, you'll get up and dance!
How are you different from traditional dance studios?
As an independent dance coach and choreographer, it's my pleasure and passion to share the gift of dance. My style is social dancing in a Closed Position and my goal is that you feel confident and have fun, rather than memorizing steps. I offer an original and unique approach to partner dance instruction with rapid results. After our session, you'll be dancing out the door – guaranteed. No fancy footwork required. If you can walk, you can dance!
Are you sure you can teach anyone in just ONE session?
With my introductory coaching session, you will be able to dance with a partner. I offer a less formalized approach to partner dancing than what is offered in most dance instruction environments. My method focuses less on footwork, as it emphasizes proper upper body posture, the Closed Position hold, and simple variations that can be easily adapted, led, and comfortably followed for various musical tempos.
How will I remember after only ONE lesson?
If you are new to social dancing, once you experience this common sense approach to leading and following, you'll wonder why you didn't step out sooner. Once you establish your muscle memory with my simple tips and tricks, your subconscious will start blending the music with your body movements. Then, a whole new vista is opened for you to enjoy the beauty and pleasure of following or leading a partner across the floor. It only takes 24 hours for the instruction to travel from your brain to your feet and you'll recall what you've learned. After our session, I'll e-mail you your own personalized GLINKA'S GUIDE recapping our time together, which will greatly assist you in remembering what we've learned.
What is the value of my investment?
I'll teach you simple moves, which will give you the confidence and desire to get onto the dance floor. Once we get together, we will accomplish a beginning, middle, and end of a dance. About two hours and you'll be dancing out the door. Music surrounds our journey - you'll be able to not only listen, but get out of your chair and dance!
Will you teach me ballroom dancing?
Well, yes AND no! Ballroom dancing, as traditionally taught, follows a conventional, well-defined pattern of steps. It tends to be more rigid and choreographed. Proficiency and comfort takes time, money, and dedication. I've heard from clients that traditional studio lessons can be very discouraging. I teach simple variations of popular ballroom dances.
Is social partner dancing the same as ballroom dancing?
No. Competition or extensive training is not the goal.
Has "Dancing with the Stars" increased your business?
Yes and no. Popular television shows have brought couples' dancing back into today's modern culture. What's important is that you are the stars of your dance show and you will certainly feel like one on the dance floor and for years to come. "We're not going for a trophy here, folks."
It's time to call Cynthia!
415-485-5500
This email address is being protected from spambots. You need JavaScript enabled to view it.